Our founder Werner Battisti was now more than 25 years ago in search of the perfect clothing for himself. Instead of giving up, he founded Skinfit. As a passionate triathlete who grew up in the Vorarlberg mountains, it was quite clear: his new clothing should of course be highly functional, but also usable for as many sports as possible.
He gained his first experience in the textile industry and fiddled around until he developed the unique KLIMA Pro fabric structure. A revolution, because the KLIMA Pro parts not only had a cooling effect during intensive sessions, but were also dry again in no time. In cold temperatures, they stored body heat in the structure and ideally protected against cooling down.
And this is no different today. Because the KLIMA Pro structure has hardly changed since its development. What is good, stays. And KLIMA Pro still belongs to the top class of functional underwear. But what has changed since then is the diversity of the collection - today we proudly look at a complete clothing system. Because settling for something has never driven anyone to peak performance.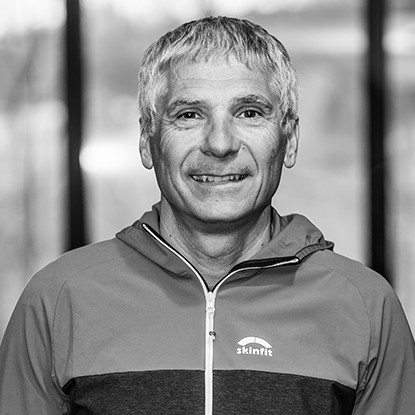 "You don't experience Skinfit until you wear it!"
Test the KLIMA Pro classics now!
Convince yourself of the proven KLIMA Pro thermoregulation, which always keeps the body pleasantly dry and provides insulation and cooling at the same time.
Conditions of participation KLIMA Pro test campaign
The KLIMA Pro test promotion is valid in the period from 16.1. to 19.2.2023. During this time, the KLIMA Pro classics 1201 KLIMA Pro T-Shirt for € 42 instead of € 59, 1301 KLIMA Pro Shirt for € 49 instead of € 69, 1009 KLIMA Pro T-Shirt for € 39 instead of € 56 and KLIMA Pro Shirt for € 52 instead of € 74 are offered. These two pieces can then be tested for 30 days. If you do not want to keep the shirt, you can return the respective shirt without giving any reason within these 30 days.
   In case of return, the purchase price will be credited to your customer account (no return payment).  Return period 30 days from date of purchase. The promotion is only valid while stocks last. Cannot be combined with other discounts & promotions. The promotion is only valid for 1 item per item number and per person.
You have more questions about the action? 
Your feedback on the product
We develop our products based on the needs of athletes. In order to further develop the apparel in the best possible way, we welcome your honest feedback on the products.
Let us know how satisfied you were with it.