10 Years Skinfit Racing Tri Team
In December 2011, a simple idea turned into a real plan and a few months later in spring 2012, Austria had its first professional triathlon team. This year marks the tenth anniversary of the birth of the Skinfit Racing Tri Team. An anniversary that we can only celebrate, but also take as an occasion to look back with you on a small success story.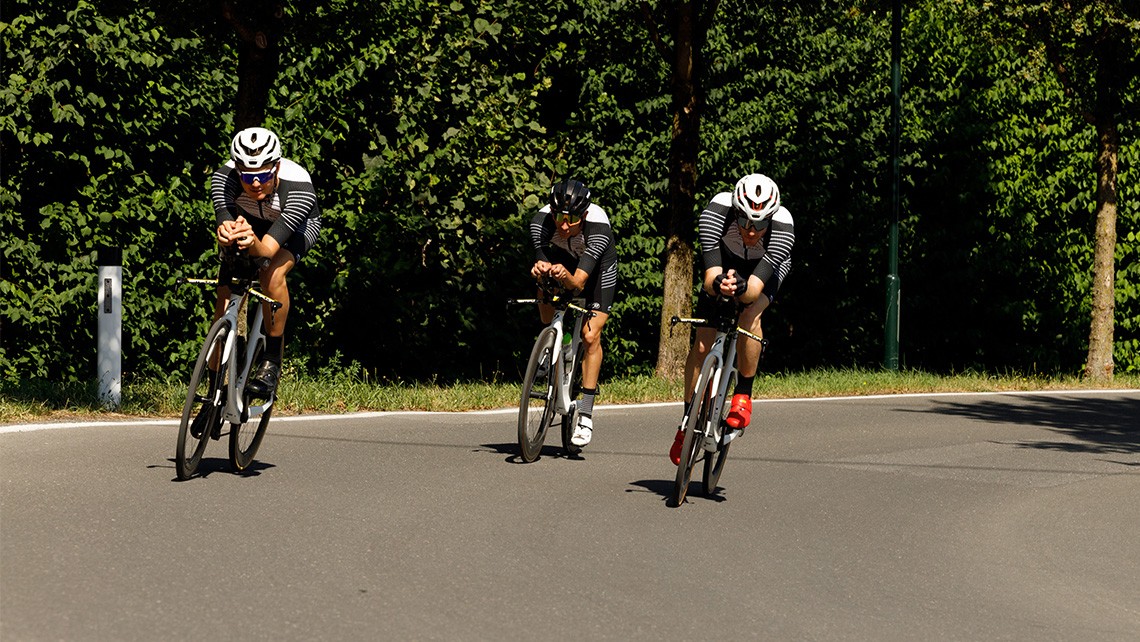 The success story
We look back with three athletes from the very beginning, who have played a significant role in the success of the Skinfit Racing Tri Team today. Christoph Kullnig, Dominik Berger and Paul Reitmayr. All three have lived through very different phases of the team and know the history and origins like no other.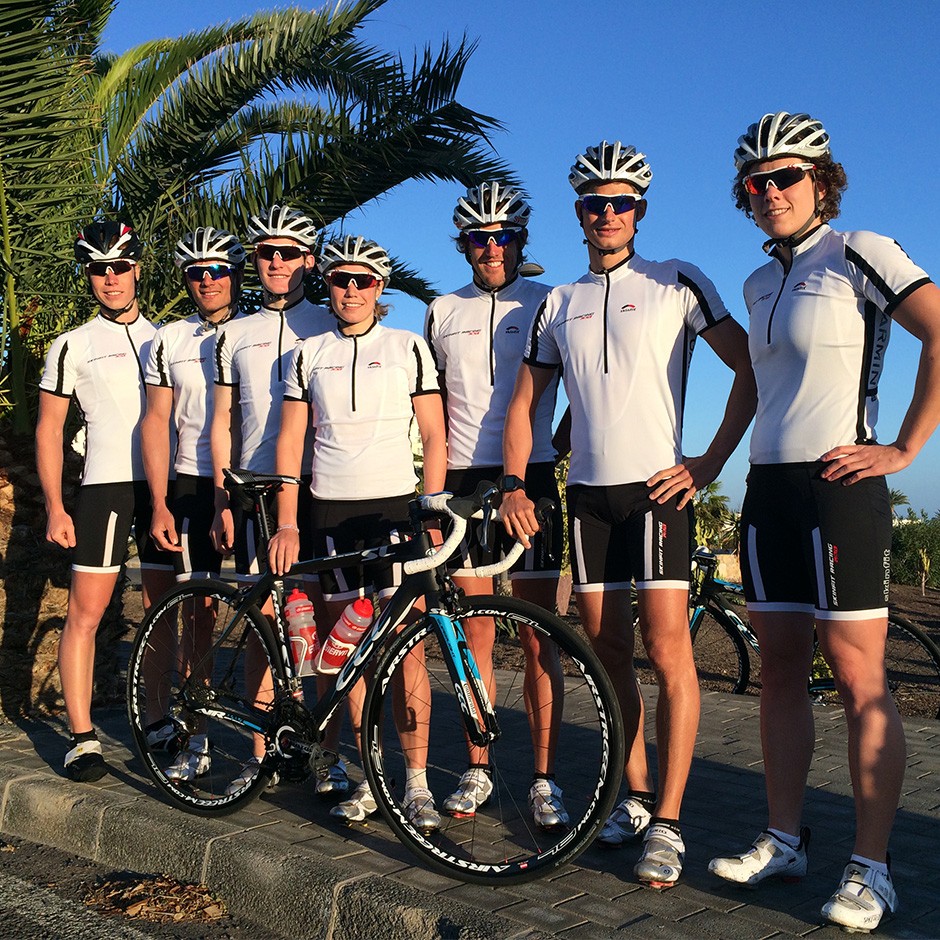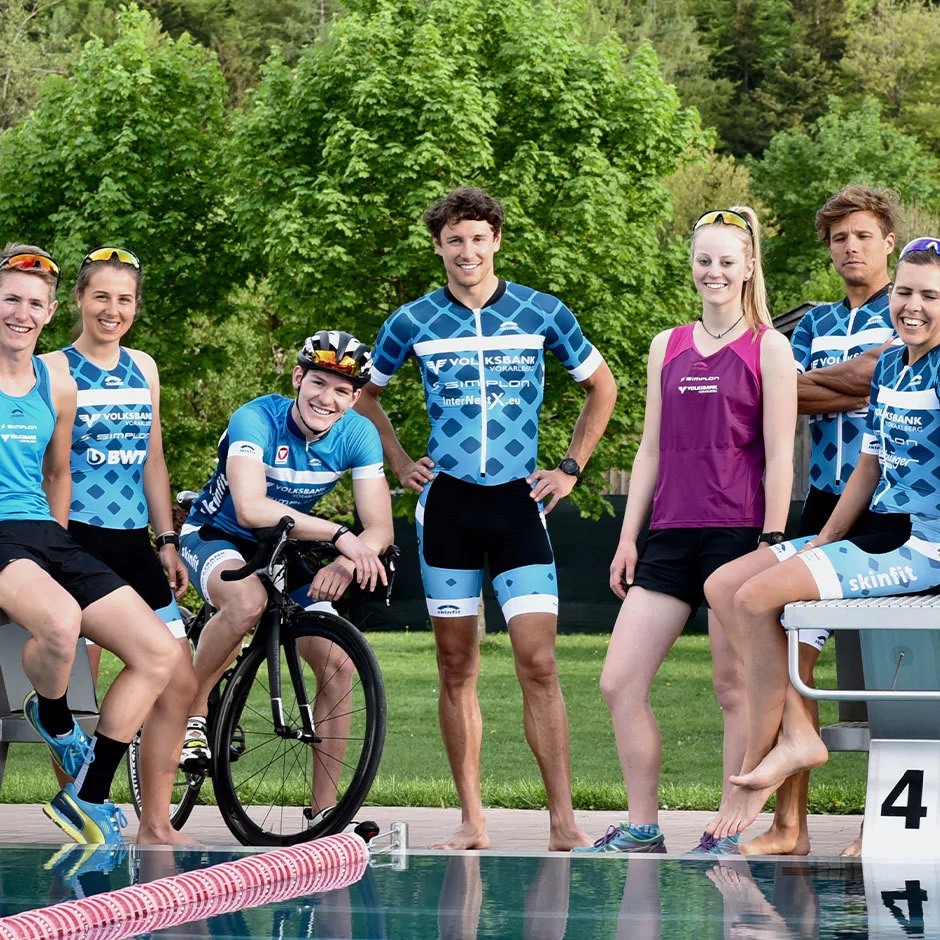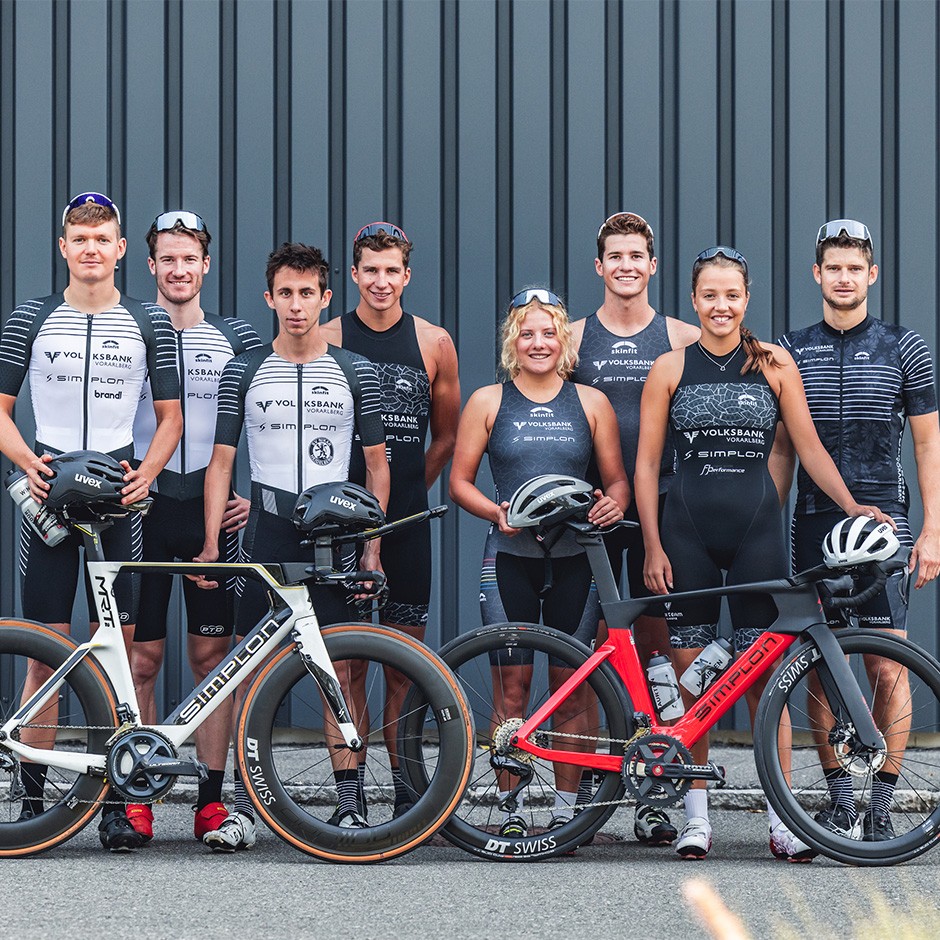 Christoph Kullnig as founder and idea provider
10 years ago, Christoph and three other sports colleagues were looking for a main sponsor for their own triathlon team and found Skinfit. But it should not stop there. Christoph and Skinfit quickly found common ground and combined their ideas and visions into a holistic concept. The first professional triathlon team in Austria was to be based on existing Skinfit Racing Teams (Factory Teams). The most important things were always the common basic values like fairness, professionalism and team spirit. With these virtues in mind, Christoph took over the sporting management for seven other athletes from the very beginning. Lydia Waldmüller (ÖTRV Olympic squad 2012), Lukas Pertl and Theresa Moser (ÖTRV junior squad 2012), Dominik Berger (Ironman Hawaii starter 2013), Paul Reitmayr (IM 70.3 winner 2015), Kathrin Müller (DTU Olympic squad 2012) and Nikolaus Wihlidal (Austrian national champion 2014).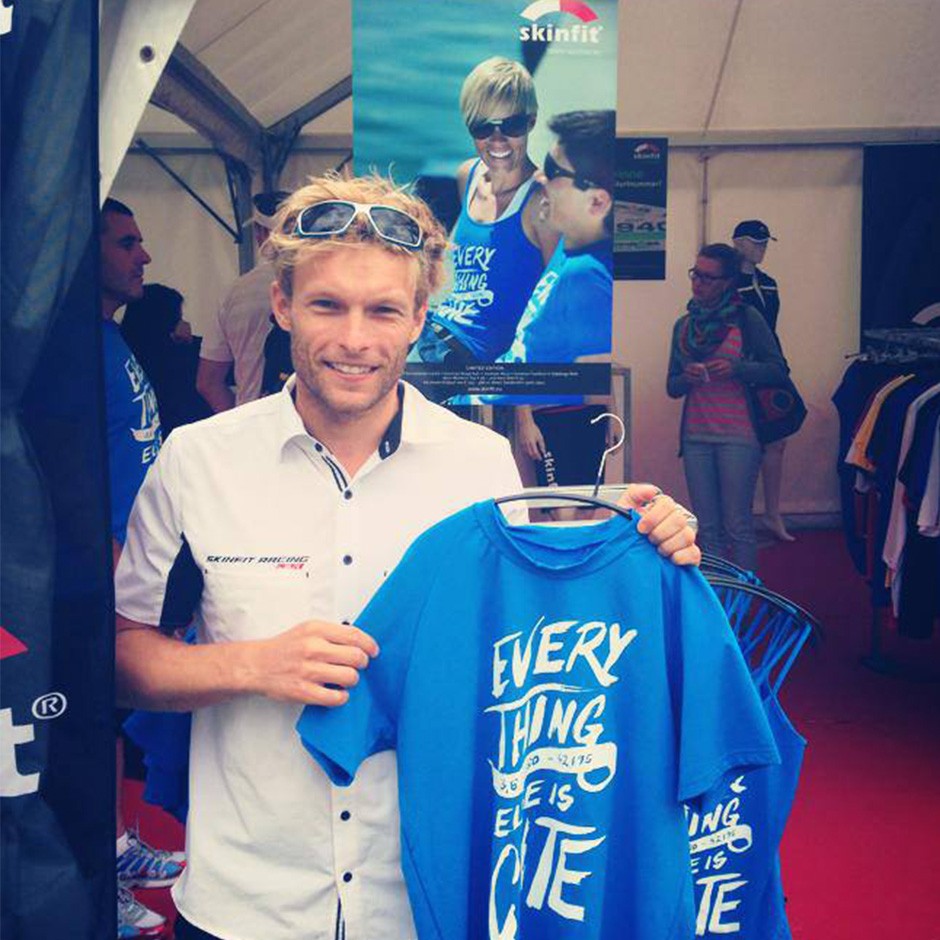 TOGETHER EVERYONE ACHIEVES MORE: THINK BECOMING STRONG TOGETHER, THAT IS BENEFITING FROM EACH OTHER IN TRAINING AND AS PEOPLE, THAT WAS THE MOST IMPORTANT THING. AND THAT'S HOW THE FOUNDING MEMBERS WERE CHOSEN.
Christoph Kullnig
Founder and Sporting Director 2012-2014
Today Christoph looks at a triathlon team with mature professional structures, financial planning security and a healthy future. After 10 years he sees "his" team very well positioned but not yet perfect. "I think it can always be better and just now after two years Covid is now  developing again exactly the dynamics that I wanted to bring to life sustainably back then. So the community, the team. Above all, the personal interaction is certainly coming more into focus again."
A team as a sporty home
After two years of building up the team and sporting management, Christoph handed over the reins to his student Dominik Berger, who was still active at the time. As one of Austria's best triathletes Dominik had numerous successes on the Olympic and longer distances. Highlights of his career were certainly top 10 finishes in Ironman races as well as his professional start in Hawaii at the Ironman World Championship.
Dominik found a kind of sporting home in the Skinfit Racing Tri Team right from the start. A community that tries to work hard together day after day to achieve their partly individual goals. To this day, the team offers the athletes a certain financial background that has helped everyone, including Dominik, in their athletic development and has reduced worries and existential fears, as well as allowing the shared joy and fun of doing things to come to the foreground. At the end of 2013, Dominik took over the role of "player coach" and led the team, in which he himself was still an active member.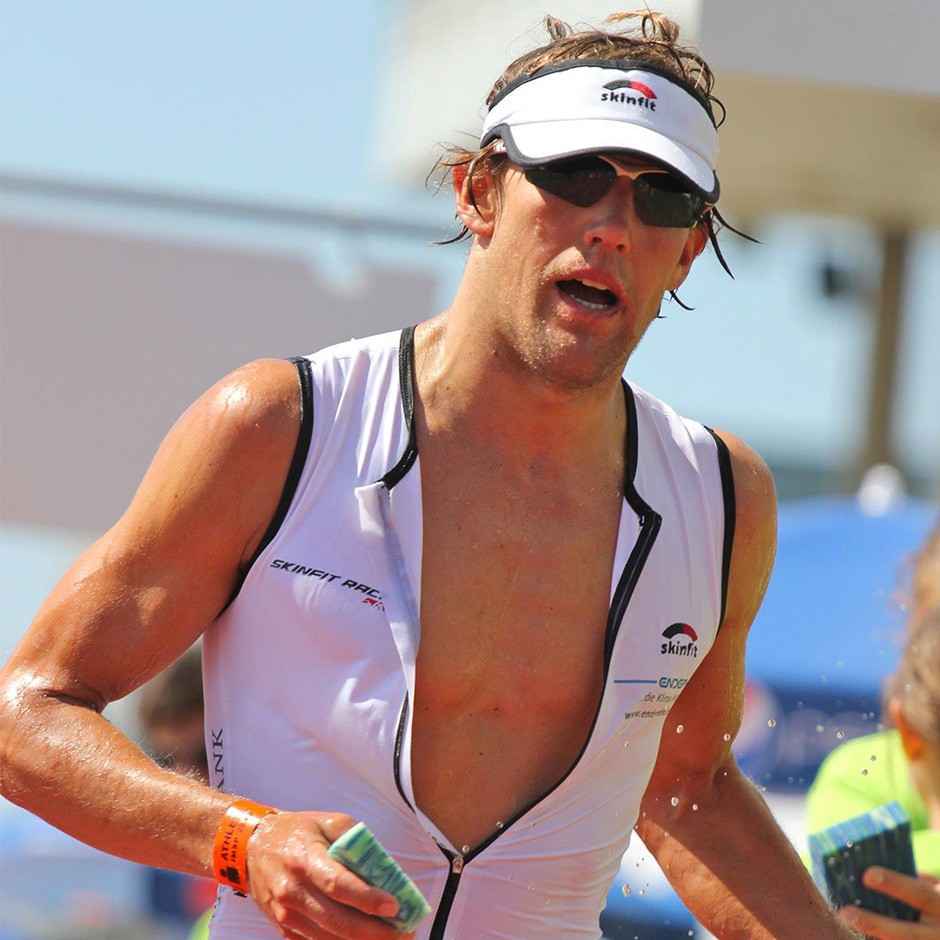 BACK THEN, I SAW THE DUAL FUNCTION AS AN ABSOLUTE CHALLENGE, BUT ALSO AS A PERSONAL DEVELOPMENT OPPORTUNITY. I ALWAYS ENJOYED IT VERY MUCH AND IT CERTAINLY GAVE ME AN INSIGHT INTO MY LATER PROFESSIONAL LIFE.
Dominik Berger
Athlete and Sport Management 2014-2015
Constancy and chanage under Paul Reitmayr
Like every sportive team, the Skinfit Racing Tri Team is subject to constant change, further development and change of members. Established athletes like Niko Wihlidal, Lydia Waldmüller, Bianca Steurer or Kathrin Müller ended their careers in the team, young talents like Moritz Meier, Larissa Burtscher or David Breinlinger joined in the past years. The symbol of consistency and longevity are certainly Philip and Lukas Pertl. The Pertl Brothers are founding members (Lukas 2012, Philip 2013) and already their complete triathlon professional career a part of the SRTT. Paul Reitmayr has a very special role. As an athlete of the first hour (both in the SRTT and as a sponsored athlete at Skinfit) Paul provided for numerous international successes in the dress of the SRTT and followed Dominik to the top of the team in 2016. To this day, Paul pulls the athletic strings in the team with great success. Under his leadership, there have been further changes and, above all, an increase in size (from the original 7 to 11 athletes today) as well as professionalization of the team. In 10 years, a group of friends has become a team that meets the demands of professional sports in all respects. Nevertheless, the essential core has not changed. According to Paul, they are still the same team as they were 10 years ago. They have remained true to themselves and are still a passionate group of triathletes living their dream while not losing sight of the fun. The SRTT still lives by the motto "from athletes for athletes", the team does without a "paid manager" and rather relies on mutual support and cooperation between athlete, sponsor and athletic management. Paul has made it his business to professionalize "his" athletes himself, and in doing so, everyone learns a lot from each other.
AFTER 10 YEARS OF SKINFIT RACING TRI TEAM, I CAN ONLY DRAW A POSITIVE CONCLUSION. OUR ATHLETES AND PARTNERS, WHO HAVE BEEN PART OF OUR TEAM EXCLUSIVELY FOR LONGER PERIODS OF TIME, SHOW ME THAT WE ARE CERTAINLY DOING A LOT RIGHT.
Paul Reitmayr
Sports management since 2016
Individualis in the team
For Paul and his predecessors, individual athletes with their own focus never conflicted with a strong sense of team. The 10 years of SRTT and further experiences beyond have shown that triathlon is not an individual sport, even if at the end of the day you are solely responsible for your performance. For many it was and still is a learning process, but especially in bad times everyone can benefit extremely from a team spirit. Especially through the enormous range in the team from short to long distance athletes, young up-and-coming talents and established guarantors of success as well as nationalities from Austria and Germany, the athletes can learn an incredible amount from each other and thus develop further and be successful.
Sporting success through team spirit
The Skinfit Racing Tri Team as a whole has been able to successfully present itself at various events over the last 10 years. From the cross world championships title to numerous podium placesments in Chalnege and Ironman races. A podium finish in the Triathlon World Cup, numerous German and Austrian national championship titles, an Olympic participation and Olympic substitute starter and qualifications for the Ironman World Championships in Hawaii are just a few excerpts from the team history so far. 10 years ago no one could have expected such great successes and all the more it is now for all involved to look confidently to the next years.
Tri Opening and Rookie Days
But not only the team itself has developed enormously in the last decade. From the very beginning, it has been a matter of concern to pass on the experience, sporting achievements and characters that make up the team to the outside world. To motivate, inspire and promote ambitious amateur and junior athletes. Thus, the SRTT already called in 2012 still under the leadership of Christoph the Tri Opening in today's Hotel Jakob in Fuschl am See. A 5-day triathlon camp for everyone under the guidance of professional athletes. The Skinfit Racing Rookie Days, a two-day sports camp for young athletes in Vorarlberg, took place for the seventh time in 2022.
More about the Skinfit Racing Tri Team, how it is positioned in 2022 and current news can be found on the homepage. Follow our SRTT on their Instagram Account to stay tuned for the next 10 years.