Services
Repairs and modifications
Those pants would fit perfectly if they were 4cm shorter? Your shirt has lost the battle against the thorn bush? No problem at all! Our in-house repair and modification service knows all the methods and tricks to change or repair any item so that you can always look your best.
Extend the life of your clothing - repair it instead of throwing it away!
Our clothing system stands for durability and versatility, among other things. It is designed for year-round and multisport use, where it is exposed to different wear factors. Many washes, regular training sessions, competitions, summit tours, wind and weather or even the odd fall will put your functional clothing through its paces. In addition, despite the most careful manufacturing and numerous quality controls, small defects can occur in the material or in the processing. Unfortunately, we have no influence on these, but we will of course offer you a repair or, in the worst case, a replacement. Our in-house repair service staff know exactly how a product is constructed and how it can best be processed so that it is as good as new again.
Generally, the answer here is: Everything. Please send us your repair request including photos by e-mail, then we can check whether and how your product can be repaired by us.Generally, the answer here is: Everything. Please send us your repair request including photos by e-mail, then we can check whether and how your product can be repaired by us.
It depends. If your item has a defect in workmanship or material, we will cover the cost of repair within 2 years of your purchase. After this period, different costs may apply depending on the defect. If your product needs to be repaired due to external impact (falling, etc.), we can provide you with a quote for the repair depending on the cost.
We strive to repair as much as possible to keep the life of your product as long as possible. In some cases, however, we have to weigh up whether it is really worth it to let our in-house tailors work on badly damaged items for too long. For some products, we are therefore unable to give them a second chance and cannot offer a repair.
You are not only sporty but also talented and would like to help your product back on its feet yourself? If this is technically possible, we will be happy to send you your desired spare part on request.
Skinfit does not cover the costs of shipping or insurance against damage and loss in transit. We recommend that you use a parcel service with tracking information, insurance and proof of delivery.
You will be sent an estimate by e-mail or telephone for the repair of products older than two years and those damaged by external causes.
We don't want you to go too long without your Skinfit product outdoor adventure, so repairs will be carried out within 10 working days of receipt.
If the defect in the product is too great, we reserve the right to refrain from repair.
Fill out the service form deposited here completely.
Please wash the product according to our care recommendations and place it completely dry in a shipping box together with the service receipt.
Send the package to the following address: Skinfit International GmbH, Hinterfeld 1, 6842 Koblach, Austria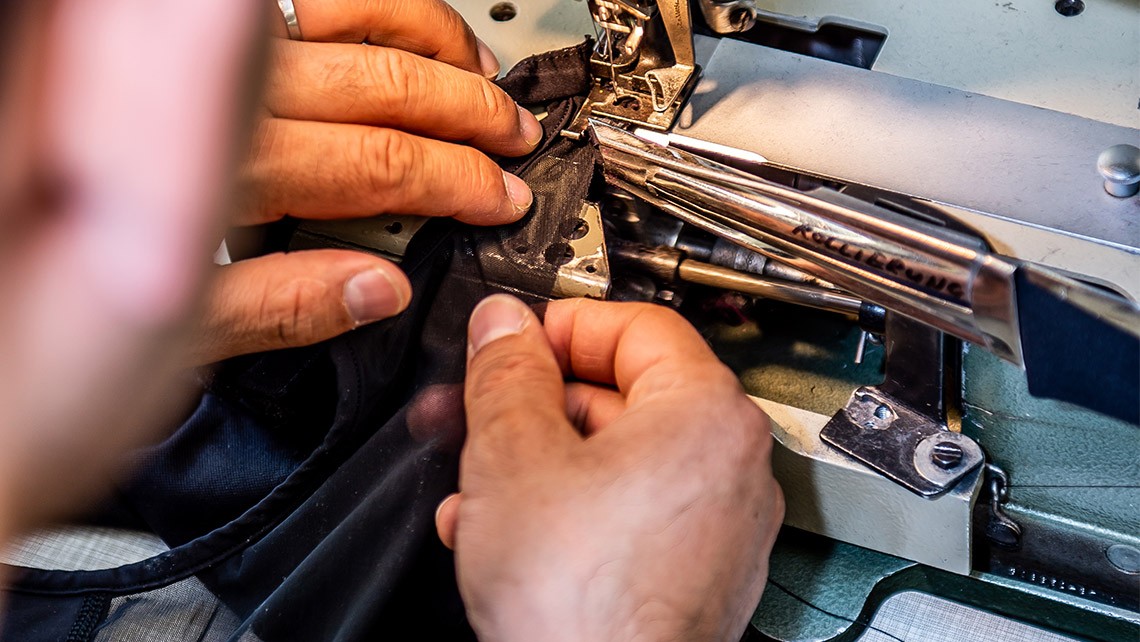 Get it fitted - because you'll only wear what you like for a long time!
Only when your Skinfit product fits perfectly and you feel 100% comfortable in it can you chase your personal best times. And because every athlete is different, every body is different and every person has different preferences, we offer various modifications to our products in order to be able to offer every individual customer a Skinfit product that fits them perfectly.
The changes mainly concern the pants and sleeve lengths. If you have other change requests, please feel free to contact us and we will look into the possibility for you.

Please note, however, that due to their construction, some items are difficult or impossible to change without affecting their function.
Hardly anyone goes to a tailor these days. And that is a pity! Because this craft is more and more forgotten and the performance of our local tailors is less and less appreciated.

We are proud to still be able to operate a sewing shop in Austria. But local craftsmanship also has its price. That is why we have to bill you for any changes in order to be able to continue to offer this service.

Our customer service will be happy to provide you with a quote for your desired change.
Whether it's a defective zip, a torn seam, trouser legs that are too short or sleeves that are too long - feel free to send us your individual repair or modification request!